OnePlus 3 display color fix already in the works – here are the first pictures!
24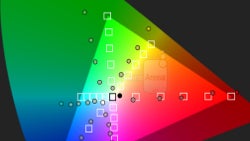 So, there's a bit of a ruckus around the
OnePlus 3
display currently. While the phone has mostly been well received by fans and critics, most are disappointed by its "
Optic AMOLED
" display – a Samsung-made panel, which has been calibrated to OnePlus' specification. Most of the complaints are geared towards the screen's inaccurate colors and overall bluish hue.
OnePlus co-founder Carl Pei had a bit too much of the criticism and
vented some of his frustration
for comments that the company cuts corners and builds its phones with cheap parts, which he claims is absolutely not the case. Then, he announced that the next OTA update will have a software re-calibration option to bring the display's colors more towards the sRGB standard.
Apparently, the team isn't kidding about this. A picture has been posted on the OnePlus forums, comparing the displays of a unit running a beta version of the upcoming patch against a regular OnePlus 3. And, despite the fact that this is probably not the final stage of recalibration, the effects are quite obvious – pictures are below.
The upcoming OTA update is also said to tame the aggressive task closing that the OnePlus 3 currently does. Despite the fact that the phone has a whopping 6 GB of RAM, it has been discovered that it tends to decimate apps from the background often, leading to a point where the community started
coming up with tweaks
to make use of the device's full RAM capacity.