OnePlus co-founder responds to display quality criticism for OnePlus 3
25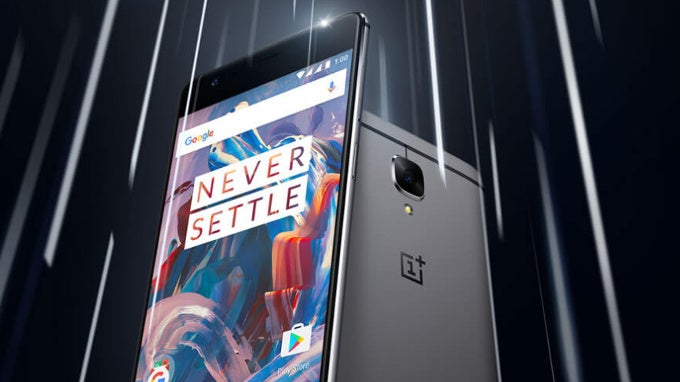 OnePlus is quite the company: it started from the proverbial bottom, a no-name company out of China with bold claims and big marketing, it raised to prominence with its 'Never Settle' motto and goal to sell phones with top hardware at half the price of mainstream flagships.
The
OnePlus 3
is its latest and most mature phone: a 5.5-inch device with a great, premium design and the top Snapdragon 820 system chip running the show.
However, tests clearly show that its 'Optic AMOLED' screen is calibrated to a standard different than the sRGB color standard used on the web. Many were outraged, and the screen got bashed for offering color balance that is off when compared to the sRGB standard.
OnePlus co-founder Carl Pei cried foul: he thinks that the criticism is way too hard and unjustified. The comment that provoked this rant is by a Redditor who accused OnePlus of buying "panels on discount." Pei addresses a few important issues that we'll go over here one by one.
"Out of all the devices that the OnePlus 3 gets compared to, it is one of, if not the most expensive to make. Do you think the price delta between a 2K AMOLED and a 1080p AMOLED is huge? It's a product decision, and spec by spec is not how to judge a product."
Many reviewers have pointed out that most flagship phones these days come with a Quad HD display (1440 x 2560 pixels), while the OnePlus 3 features a 1080 x 1920-pixel display at a 5.5-inch screen size. In addition to that, it's an AMOLED display that is also PenTile and has less sub-pixels. Yes, if you stare at your phone from up close and look at tiny text you notice a very slight jaggedness and it does not look as perfectly paper-like as the latest HTC 10 or Samsung Galaxy S7.
We tend to agree with Carl Pei on this, though: this is practically unnoticeable and a non-issue in daily use, where we hold our phones some 10, 15 or even more inches away from our eyes. Screen sharpness is a result of three factors coming together: your eyesight and how good your vision is (not perfect for most people), distance and screen resolution. Apple claimed years ago that its 326ppi iPhone 4 display with a resolution of 640 x 960 pixels is all that's needed for perceived sharpness. The OnePlus 3 is sharper than that with pixel density of 401ppi. To understand why that resolution will be a great choice for an overwhelming majority of users, feel free to check out our detailed comparison and explanation of screen resolutions here:
On color standards and sRGB:
"The vast majority of our users, and reviewers love Optic AMOLED. It is NOT tuned to sRGB, and was never meant to be. sRGB tuning is a niche requirement and is not the right choice for the vast majority of smartphone users. Why do you think it's hidden under developer settings on the 6P?"
sRGB is the de facto standard for all visual content on the Android platform and on the web. Android does not even natively support any other color standard and profiles. Only advanced cameras support additional color profiles like Adobe RGB and those are rarely used. Saying that the color standard accepted by the whole world is a 'niche requirement' is hypocritical.
Sure, there are quite a few examples of other phone makers with bad color calibration, but that does not make good-looking, accurate screen color a 'niche requirement'.
The Nexus 6P example is quite weird as well. Why is it then that the Nexus 5X is calibrated to the sRGB standard, Mr. Pei? Why are all iPhones calibrated to the sRGB standard? Why are all the best laptops and screen monitors trying to achieve that perfect sRGB color balance? OnePlus is clearly in the wrong here: the color issue is real. Sure, it might not be something that a lay person notices right away, but when given a device with proper color calibration and one with colors that are off, the difference is easily seen.
"For those who need it, we've taken note, and have added it to the next OTA."
Pei quickly digresses in his arguments and - thankfully - promises an sRGB color profile coming via an OTA update. We're thankful for that. We're yet to see how well can a software update fix those calibration issues, as colors on the OnePlus 3 now look quite off.
"On the other hand, I get it. People simplify and use mental shortcuts to make sense of the world around them. Price = quality. We probably haven't done good enough of a job explaining our model, and we need to work on this going forward. I understand that sometimes, when our products don't have the highest absolute specs, it might look like corners are cut. This happens when people don't understand the product reasoning that went behind a choice. When we see this, we'll be increasingly vigilant about educating people."
It's true to some extent that users are often caught off-guard by bold marketing claims, but isn't that a part of what OnePlus did in its inception as a company as well? And even with the OnePlus 3 and its fuzzy 'Optic' AMOLED display, isn't this a term that the company failed to properly explain and a term that might hold no real value? We do appreciate OnePlus recognizing this as an issue for the whole industry, though. It's something that many - if not most - phone makers are guilty of and if the company takes the lead in educating people about technology, we'll be the first one to give it a standing ovation.
"Before finishing this rant, I want to make things really clear. There are no corners cut on the product, and there will never be. OnePlus cuts corners on business model (direct to consumer), org structure (nimble and fast team), and marketing (organic word of mouth focused)."
That's a nice clarification. All in all, we're happy to see OnePlus putting the heavy work and defending its decisions. We may not agree with all of Pei's arguments, but for the first time in history - as far as we can remember - we have this dialog. And that's something special.