OnePlus 2 vs Samsung Galaxy S6 vs LG G4: Specs Comparison
11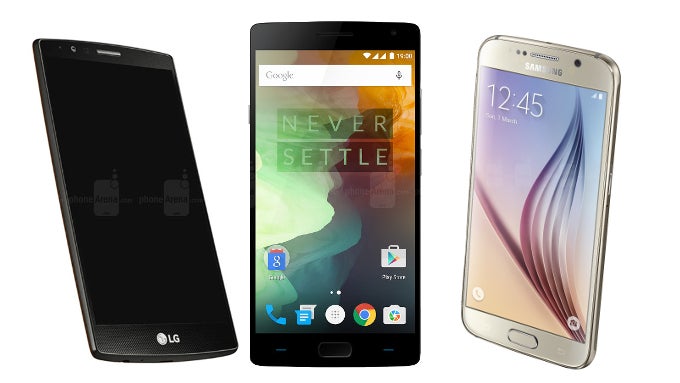 So, OnePlus has
finally announced
the
OnePlus 2
– the successor to its debut One, and the self-proclaimed "
2016 flagship killer
". The new device brings some notable improvements over its precursor, upgrading its hardware to the top-of-the-line specs of today and outfitting it with a fingerprint sensor. That aside, the new phone's design language is heavily reminiscent to the one we saw last year, only slightly retouched to keep up with current trends.
Of course, OnePlus became hugely popular thanks to the generous pricing of its phones – selling flagship-class hardware for around half the price of what huge companies offer their premium handsets fo. With the OnePlus 2, the company retains this tradition and has hung a $329 price-tag on the phone. That kind of money gets the users a Snapdragon 810 SoC, whopping 4 GB of RAM, and a 13 MP Sony IMX214-equipped camera with laser focus.
Keeping all this in mind, it's easy to see that the OnePlus 2 is certainly an alluring offer for anyone on the market for a high-class device who doesn't wish to break the piggy bank. Wondering how exactly this hardware compares to the two major Android players – the
Galaxy S6
and
LG G4
? Check the comparison below and you will see – the OnePlus 2 ceartainly doesn't settle!
Super AMOLED
IPS LCD
IPS LCD
Scratch-resistant glass, Ambient light sensor, Proximity sensor
Scratch-resistant glass, Ambient light sensor, Proximity sensor
Scratch-resistant glass, Ambient light sensor, Proximity sensor
Samsung Exynos 7 Octa 7420 (14 nm)
Qualcomm Snapdragon 808 MSM8992 (20 nm)
Qualcomm Snapdragon 810 MSM8994
Octa-core, 2100 MHz, ARM Cortex-A57 and ARM Cortex-A53, 64-bit
Hexa-core, 1800 MHz, ARM Cortex-A57 and ARM Cortex-A53, 64-bit
Octa-core, 1800 MHz, ARM Cortex-A57 and ARM Cortex-A53, 64-bit
Mali-T760 MP8
Adreno 418
Adreno 430
128GB, not expandable
32GB
64GB
Android (7.0 Nougat, 6.0 Marshmallow, 5.1 Lollipop, 5.0 Lollipop), Samsung TouchWiz UI
Android (6.0 Marshmallow, 5.1 Lollipop), LG UX UI
Android (6.0 Marshmallow, 5.1 Lollipop), OnePlus OxygenOS UI
Fast charging
Qualcomm Quick Charge 2.0
18.50 hours
the

average

is 17 h (996 min)
23.00 hours
the

average

is 19 h (1110 min)
3G: 10 hours; LTE: 12 hours; Wi-Fi: 12 hours
Single camera
Single camera
Single camera
16 MP (OIS, Autofocus, BSI sensor)
16 MP (OIS, Laser autofocus)
13 MP (OIS, Laser autofocus)
Aperture size: F1.9; Focal length: 28 mm; Sensor size: 1/2.6"; Pixel size: 1.12 μm
Aperture size: F1.8; Focal length: 28 mm; Sensor size: 1/2.6"; Pixel size: 1.12 μm
Aperture size: F2.0; Sensor size: 1/2.6"; Pixel size: 1.3 μm
3840x2160 (4K UHD) (30 fps), 1920x1080 (Full HD) (60 fps), 1280x720 (HD) (120 fps)
3840x2160 (4K UHD) (30 fps), 1920x1080 (Full HD) (30 fps), 1280x720 (HD) (120 fps)
3840x2160 (4K UHD), 1920x1080 (Full HD), 1280x720 (HD) (120 fps)
OIS, HDR, Continuous autofocus, Picture-taking during video recording, Video light, Video calling
OIS, Continuous autofocus, Picture-taking during video recording, Video light, Video calling, Video sharing
Time-lapse video, Video calling, Video sharing
5 MP
8 MP
5 MP
2560x1440 (QHD) (30 fps)
1920x1080 (Full HD) (30 fps)
5.65 x 2.78 x 0.27 inches (143.4 x 70.5 x 6.8 mm)
5.86 x 3.00 x 0.39 inches (148.9 x 76.1 x 9.8 mm)
5.98 x 2.95 x 0.39 inches (151.8 x 74.9 x 9.85 mm)
4.87 oz (138.0 g)
the

average

is 6.5 oz (184 g)
5.47 oz (155.0 g)
the

average

is 6.5 oz (184 g)
6.17 oz (175.0 g)
the

average

is 6.5 oz (184 g)
Back: Glass; Frame: Aluminum
Back: Plastic
Frame: Aluminum
Fingerprint (touch)
Fingerprint (touch)
Notification light, Touch sensitive control keys
Notification light, Interchangeable covers
Interchangeable covers, Notification light