OneApp from Microsoft – a way to run a variety of apps on feature phones
8
About a month ago we
reported
that
Microsoft
had procured a patent for
OneApp
and everybody though this heralded the appearance of a new online store dedicated to applications for the growing fleet of handsets running Windows Mobile. Well, it turns out the software giant has planned on something far better.
OneApp will be a piece of software with size of about 150KB, developed for feature phones. Yes, that´s right. Microsoft will try and blaze a trail in a part of the industry they haven´t been associated with, at least this far. OneApp will allow users to run applications for services like Facebook, Twitter, Windows Live Messenger, Mobile Wallet etc. despite the limited hardware resources available on feature phones. This will be implemented by dynamic application handling. What this means is that the device will need to allocate resources for running only the part of the application that the customer needs to use, so it won´t be necessary that entire applications are stored on the device. Moreover, transferring part of the processes to a server will certainly relieve the handset from hardware intensive tasks. According to Microsoft, GPRS connection will be more than enough to provide enough bandwidth to OneApp.
The company will be partnering with the carriers, which will be tasked with the product distribution. Actually, the app is already available in South Africa through Blue Label Telecoms, although Microsoft is planning on a world-wide expansion. Software developers will be able to create programs for OneApp using Java and XML scripts, plus SDK will come out by the end of the year. The list of supported devices is quite long at the moment with several Sony Ericsson handsets, the Samsung U900 Soul and a number of S60 Nokia smartphones that are Java-capable.
We think this is a great idea indeed and certainly hope to see carriers embrace it whole-heartedly, because this is a way of making feature phones more appealing and functional. You can find the official app web site
here
.
source:
Microsoft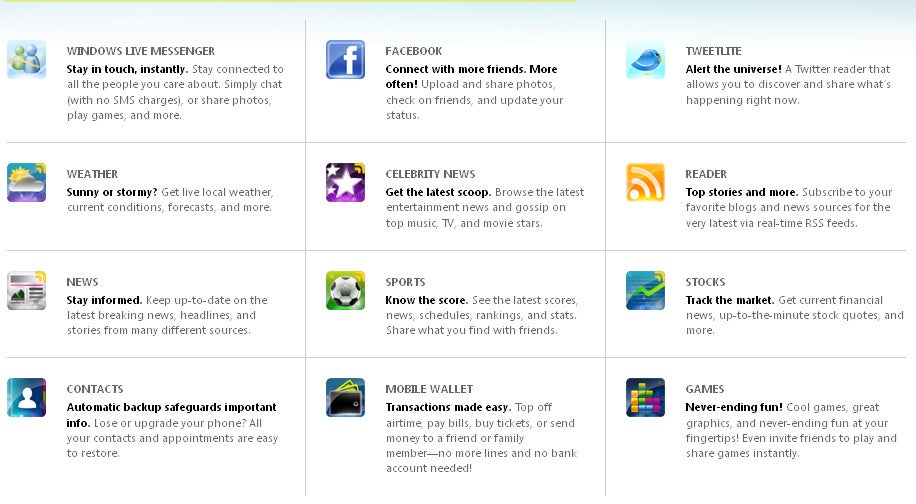 Some programs for OneApp