Often rumored Amazon Smartphone may be free off-contract
10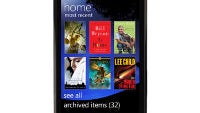 We've been hearing rumors about an Amazon smartphone for a long time now, but we have yet to hear any official word about a device, or even see a viable leak that would make us believe the device is anything but vaporware. Of course, a new report is saying once again that the Amazon smartphone not only exists, but that Amazon wants it to be free.
And, we're not talking about free on contract; we mean free off-contract. The report comes from former
Wall Street Journal
journalists Amir Efrati and Jessica E. Lessin, who say that Amazon's plan is to offer the phone for free, although it's unclear if the plan would require a user have an Amazon Prime subscription or not. But, there's no guarantee that Amazon will even be able to pull off this plan.
Word is that Amazon has been talking to carriers, but would more likely end up selling the smartphone directly through its site. The plan to essentially give the phone away for free would also be dependent on deals that Amazon would make with whatever hardware company helps to manufacture the device. Amazon would obviously be looking to undercut the competition as a way to draw users to its own ecosystem, since it controls its own Appstore and content stores.
The last time we heard about the
Amazon smartphone
it was an incredibly odd rumor reported through
Wall Street Journal
which said the company was planning two different smartphones, and that one of them would have a 3D display. We're really hoping that plan has been scrapped, since the 3D fad is essentially over.