Amazon may be making a 3D smartphone with eye tracking
4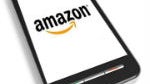 No, you haven't been transported back to 2011, that headline is accurate. There have been persistent rumors that Amazon is working on a
smartphone
, but the newest rumor claims that Amazon's smartphone may feature a 3D display and eye-tracking technology. Luckily, there's no indication that this device will actually see the market. It may just be a prototype.
According to the
Wall Street Journal
, Amazon is working on two different smartphones. The higher-end smartphone may end up having a glasses-free 3D display and eye-tracking technology. The idea there is that users could not only navigate their phone with the eye-tracking (assuming it works better on Amazon's device than it does on Samsung devices), and the eye-tracking could also help the phone to make sure the 3D is being displayed optimally based on how you're looking at the device.
Of course,
WSJ
does admit that it is unclear what devices in the pipeline are going to make it to release, and which are experimental prototypes. If Amazon can get eye-tracking to work, we have no issue there, but we're happy to let the 3D craze be relegated to children's movies.
The report also says that Amazon is working on a cloud-based audio player. And, it may not be too long before we see what Amazon is really working on, because a reveal is expected in the "coming months".