Obama signs executive order to get the government ready for mobile payments faster
19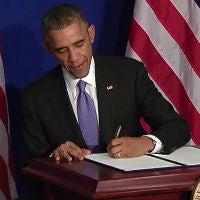 Apple Pay is launching tomorrow (Monday), which many may claim is kickstarting a mobile payments revolution. Of course, the trouble with that idea is that the switch to point-of-sale (PoS) systems that can accept mobile payments is something that was coming anyway. On Friday, President Obama signed an executive order to help make that switch faster in the US government.
As we've
explained before
, two years ago, credit card companies committed to a switch to EMV systems by October 2015. EMV and NFC essentially go together in PoS systems, meaning all companies that switch their PoS terminals will get both. And, companies are highly motivated to switch, because after October of 2015, fraud liability will be on the retailer rather than credit card company, if the retailer isn't using an EMV system. But, President Obama is hoping to push that switch a little faster with a new executive order.
The executive order is titled "Improving the Security of Consumer Financial Transactions", and comes on the heels of credit card hacks at retailers like Target, Home Depot, and others. The order (like all executive orders) has no power over those companies, but does mandate that various government agencies make the switch to EMV systems by early 2015 (some agencies have until January, some until March). The hope is that this move by the government will help convince retailers to make the change faster. If so, Google Wallet and Apple Pay will be accepted at more places sooner that you might have thought.