Obama campaign starting to accept text message donations for the first time, Romney/Ryan ticket to follow
5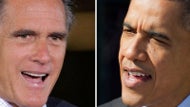 Barack Obama's presidential campaign announced today that it has ironed out the agreements with Verizon, Sprint, T-Mobile and U.S. Cellular for donations distributed via text messaging, into which
the carriers were brought kicking and screaming
recently, as they said it would be too much hassle to screen subscribers for citizenship status, for example.
Soon there will be signs at billboards at rallies, in the end of ads or on fliers, encouraging supporters "
to contribute $10 to Obama for America, text GIVE to 62262.
" Mitt Romney's campaign hasn't made anything official yet, but we doubt it will pass on what could be the next revolution in campaign financing, since his team will have the short code 466488 for text donations at its disposal.
What do you think, will the ease of text message donations actually encourage you to financially support one campaign or the other more than the current ways to do it?
Recommended Stories