Nvidia CEO calls Android the most "versatile" OS in history
49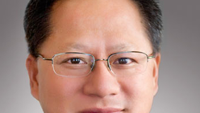 Jen-Hsun Huang is a co-founder, president and CEO of Nvidia which means that the executive wears quite a few hats at the chip manufacturer. One hat is that of an Android fan. During Nvidia's conference call on Thursday following the release of its third quarter numbers, Huang had some positive words to say about Google's open source OS.
"
Android is the most disruptive operating system that we've seen in a few decades, in a couple of decades
," said Huang. He also called it the most "
versatile
" operating system ever seen, noting how it connects to the cloud and can also come out of the box full of apps making it useful from the moment you first boot up an Android powered device. The versatility comes from Android's ability to drive more than just smartphones. Huang notes how the OS can also be found on tablets, gaming systems, set-top boxes and all-in-one PCs.
Nvidia reported that for the third quarter, revenue for the Tegra 4 SoC more than doubled and the co-founder, president and CEO said that the success of the Tegra 4 is dependent on the success of Android. Nvidia's own Shield gaming system uses the Tegra 4 and is driven by Android. Huang sees Android becoming a very important platform for gaming moving forward. Even with this in mind, Huang says that Nvidia has very moderate expectations for Shield. Unequivocally, the big driver of Nvidia's performance next year will be the Tegra 4, says Huang, which means that Android will play a major part in the company's performance next year.
"Our initiative (is) to cultivate the gaming marketplace for Android. We believe that Android is going to be a very important platform for gaming in the future, and to do so we have to create devices that enable great gaming to happen on Android."
-Jen-Hsun Huang, co-founder, presidemt and CEO, Nvidia
source:
TheRegister