Nu-Screen HD polish resists annoying screen smudges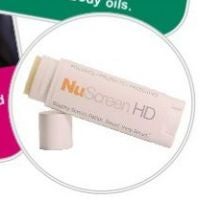 Have you ever looked at your own device, and been downright disgusted with the amount of fingerprints, skin oils, and even makeup left behind? Of course you have. But wiping it down becomes quite the hassle, particularly if you're doing so compulsively.
Nu-Screen HD is a polish that will keep your touchscreen clean by resisting the accumulation of skin oils and more
.
We are a little bit skeptical of the US$20 price tag, particularly because Nu-Screen HD just looks like a square tube of chapstick. And, while they guarantee it's safe for skin, we suspect that the Carnauba wax might contribute to facial acne. So if you're a pubescent mobile user, you might want to stick with frequent wiping.
To use Nu-Screen HD, you simply apply an X-pattern on your screen, polish with your finger, and let it cure overnight. To give it extra shine, you can polish it again with a micro-fiber cloth.
Beyond the resistance of oils,
Nu-Screen HD will also make swiping gestures "slippery smooth"
. And as you've probably noticed, recently cleaned bare screens tend to be a little sticky when you're making swiping gestures.
The ad only mentions use on a bare screen, so we're not sure if it works as well on screen protectors. But a $20 tube will give you "hundreds of repeat applications," so maybe you can buy one and split it with your friends and family.
source:
Nu-Screen Products
via
SlashGear