Now Samsung confirms it is preparing to sue Apple over 8 LTE patents
93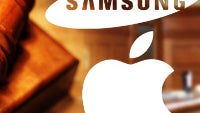 The Apple iPhone 5 is here and it supports 4G LTE. Good news? Yes, for Apple's and Samsung's lawyers.
Samsung has now confirmed earlier comments from its top executives that
it will sue Apple as soon as the LTE iPhone hits shelves
.
That moment has come and Samsung found 8 LTE patents that it thinks the iPhone 5 infringes on.
"Samsung anticipates that it will file, in the near future, a motion to amend its infringement contentions to add the iPhone 5 as an accused product. On September 12, 2012, Apple announced that it will release the iPhone 5 on September 21, 2012. Based on information currently available, Samsung expects that the iPhone 5 will infringe the asserted Samsung patents-in-suit in the same way as the other accused iPhone models. Samsung plans to file a motion to amend its infringement contentions to address the iPhone 5 as soon as it has had a reasonable opportunity to analyze the device. Because Samsung believes the accused functionality of the iPhone 5 will be similar to the accused functionality of other accused Apple products, Samsung does not believe that amendment of its infringement contentions should affect the case schedule."
What does this mean? Simple, Samsung might ask the court for
preliminary injunction against the iPhone 5
. So far, we've seen Samsung ask the court for injunctions on Apple products in Europe but not yet in the States.
As you know the first trial between Apple and Samsung is awaiting appeal, and Apple wants to triple the over $1 billion in damages it was awarded by the jury. The second lawsuit will begin with hearing on September 26th. Ah, it just never ends.
source:
FOSS Patents