Note 3 Neo gets priced dangerously close to the Note 3 at a German retailer
21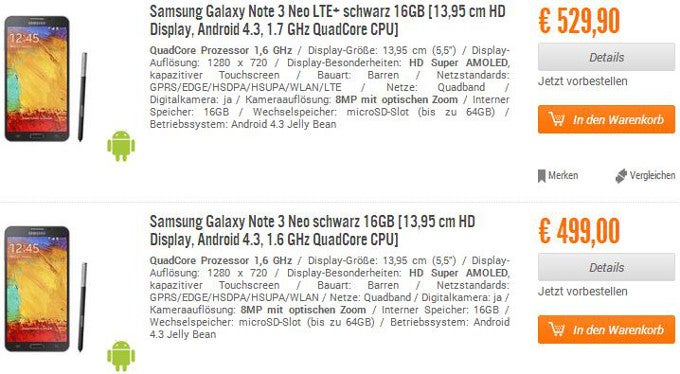 A German electronics e-tailer has already listed Samsung's mid-range phablet, the
Galaxy Note 3 Neo
, which we
previewed last week
, on its website. The pricing, however, jibes with
Korean media reports before its unveiling,
meaning that the rumors it will be priced "premium" might turn out true, after all.
The website lists the LTE version of the Note 3 Neo for EUR 529 ($713), and the 3G one for EUR 499 ($673). Granted, these pre-release prices are usually puffed up to gain advantage of early adopters, and in the US we typically get about 20% lower tags, but there is one disconcerting fact, and it's the price of the Note 3 at the same retailer.
The flagship phablet is priced at EUR 515 for the 32 GB version there, which is actually a tad lower than the Note 3 Neo, that is
inferior in every aspect
, while the 16 GB Note 3 goes for EUR 499, as much as the 3G version of the Neo on preorder. Hopefully these listings won't be indicative for the final retail pricing of Samsung's new mid-range phablet, as then the value-for-money ratio will be totally skewed in the Note 3's favor.