Nostalgic about the Blue Coral Note 7? Xiaomi has just the Mi Note 2 fix
10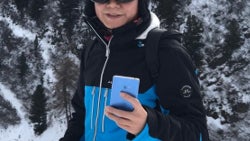 Call it what you will, but Chinese darling Xiaomi will be releasing a blue
Mi Note 2
, among other color versions, and the hue somewhat resembles that of the infamous
Note 7
Blue Coral version. That one proved so popular that Samsung decided to bring it down to the next best thing in its flagship Galaxy line - the
S7 edge
- and it has been selling like hot cakes ever since, often on back order from US carriers.
Even if you decide that the blue Mi Note 2, as showcased in the photos below by Xiaomi's CEO Lei Jun, is not at all like the
Blue Coral Note 7
, bear in mind that it's still a phone with a 5.7" curved dual edge OLED that is made of metal and glass. The rest of the specs include Snapdragon 821 chipset, 6 GB RAM, 128 GB storage, 4000 mAh battery, and a 23 MP camera.
These top-shelf specs do reflect on the asking price of about $600, but let's not forget that the handset also has a version with no less than 37 bands, including CDMA and 22 LTE ones, that would work virtually everywhere on global carrier networks if you decide to import. Granted, you can't make a Note 7 without an S Pen, but Xiaomi is at least trying.