Northwestern University develops smartphone app to detect depression
2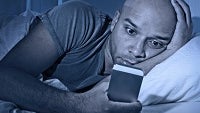 One of the challenges for doctors to diagnose conditions, like depression, is the variable of the patient. Often times there are questionnaires and other measures that have subjective angles that are tough to work around.
Researchers at Northwestern University developed a mobile app called
Purple Robot
. By capturing data from the various sensors on the smartphone, such as location, movement, and usage patterns, they think they can build an objective model to ascertain if a person has depression.
"The main reason for the development of the app is to see if we can objectively and passively identify if people are depressed," according to a research fellow at Northwestern's Feinberg School of Medicine, Sohrob Saeb.
In 87% of the first 28 participants of the study, Purple Robot was able to identify risk factors for depression. Moreover, Purple Robot was able to glean risk factors from 74% of those that used their smartphones the most, texting, but did not use their phone for talking.
This is just the first round of the study. The school plans to use its samples to improve the app, and it will lengthen the duration of the next study to identify changes in behavior over the long term. It is estimated that as much as 17% of the population may contend with depression at some time in their lives. As smartphone ownership is set to continue its exponential growth, applications such as this may find a great deal more worth than the current crop of generic apps that promote some type of mental health benefit, but without any peer-reviewed studies to demonstrate effectiveness.
via:
CNN
Recommended Stories