Only a third of smartphone buyers will consider buying a Nokia model
This article contains unofficial information.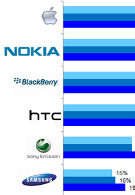 According to the latest research on smartphone purchasing performed by YouGov's Mobile Internet experience, the number of smartphone owners who would consider buying a Nokia phone has dropped sharply. In the last 8 months, the percentage of those who would consider a Nokia model for their next phone has dropped from 46% to 33%. Even worse, only 10% expect to buy a Nokia, down from the 19% reading seen after the previous survey. On top of the smartphone list is Apple with 56% responding that they would consider an iPhone for their next handset and with 41% expecting to be buying an iPhone when purchasing a new phone. While Nokia's numbers are on the decline, what is surprising is that the number of smartphone users that would consider BlackBerry (31%) and HTC (28%) is even lower. Current users of devices from the Finish based company are loath to recommend the brand to friends. While 70% of iPhone users would recommend the phone to their pals, only 12% of Nokia owners would do likewise. What are the reasons for the poor perception of Nokia smartphones? Those moving away from the brand blamed the lack of apps, the poor quality of the OS and the desire to change brands. YouGov's Research Manager for Technology and Telecoms, Russell Feldman, said, "Where Nokia once led the market, it has drastically fallen by the wayside...significantly outperformed by Apple's App Store and the Android Market. The results of our data consistently show that the market leader is fast becoming an also-ran in the smartphone market. New products, software and apps are needed soon if Nokia is to keep up with its rivals."
source:
YouGov
via
MobileToday