Nokia's debt downgraded to less than junk
99+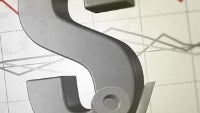 How potentially worthless is debt issued by Nokia? After the Finnish based handset manufacturer
purchased the half of a joint network equipment venture owned by Siemens
for $2.2 billion, S&P lowered its rating on Nokia debt by one notch from
BB- to B+
. Nokia's debt was already at junk levels before the downgrade. Bonds rated at that level or lower are not allowed in the portfolios of certain bond funds.
Overall, the credit agencies rating on a business is like a credit report on a person as the lower the rating, the more money it will cost it to borrow money. Meanwhile, S&P rival Moody's put Nokia's credit rating, currently at B2, on review with the possibility of a downgrade to Ba3. Fitch, another rating agency, agreed with Nokia that the deal made sense, but added that the future visibility of Nokia's handset business was limited.
Buying out Siemens gives Nokia 100% ownership of a company involved in the technology needed to run 4G networks. But the purchase might have come at too high a cost for Nokia as S&P now forecasts that the company's net cash on hand at the end of the year will be just 1.3 billion Euros ($1.7 billion USD).
Nokia, looking to keep stockholders from panicking, responded by saying that its financial position remains strong and the company has access to an untapped credit facility. "
We will continue to prudently manage our cash resources post-transaction
," Nokia said.
source:
Reuters