Nokia's board supports CEO Stephen Elop
45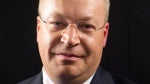 Despite the perception that the company
needs a well-to-do partner to survive
, and a
stock price that has recently made a 16 year low
, Nokia's board is giving current CEO Stephen Elop its full support. Nokia chairman Risto Siilasmaa praised Elop for the speed at which he was able to get the Windows Phone powered Nokia Lumia models into the marketplace. Siilasmaa says that Elop is being criticized way too often, for problems that date back to 2008 which was well before Elop left Microsoft for Nokia.
"Our duty is above all to ensure that Nokia's competiveness is restored."-Risto Siilasmaa, Chairman, Nokia
Siilasmaa also answered general questions from the press, explaining why Nokia left Symbian for Windows Phone. The executive pointed out that Nokia's share of
Symbian powered phones had declined from a peak of 60% in 2008
. The chairman added that it became clear about 18 months ago that Symbian couldn't be saved. Siilasmaa praised Elop for his analytical, transparent and critical performance noting that turnarounds don't take place in a short period of time. Ironically, in a separate interview, Elop said that he had miscalculated the speed of the market during the last year and a half. He said that if he had known how fast the market was moving in certain cases, he would have done some things differently. As an example, he mentioned the drop in price for Android phones in China. The drop has been so fast that Nokia's position in the country has become more difficult.
Nokia has announced a major restructuring earlier this month that will
force the company to lay off 10,000 employees
, close some plants, and widen the price points for its Nokia Lumia phones. The handset manufacturer has
seen its shares drop 80%
since Elop became CEO in 2010.
source:
WMPoweruser
Recommended Stories