Nokia's Social Media Week begins on February 7th
2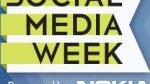 Are you passionate about your social media? And are you passionate enough to want to discuss them in a formal symposium? Then you're in luck.
Nokia
is hosting their bi-annual Social Media Week from Februrary 7-11, where users and industry professionals can meet to discuss the present and future of social media.
The events will take place around the globe, in New York, San Francisco, Paris, Istanbul, London, Hong Kong, Sao Paulo, Toronto, and Rome. Don't worry if you don't have a Nokia device, they have set up a web app called #NokiaConnects to help you track all of the events. From your mobile device or desktop, you can watch trending Twitter comments about your local events, and use
Ovi Maps
to guide you to the different venues.
Don't be offended if they aren't hosting events in your city. As Nokia says, their "City Partners are generally constructed of individuals who work for established companies with expertise in the digital media industry." If you're a mobile developer, then you don't want to miss out on the event. If nothing else, it will be a great networking opportunity, or even a chance to sell your ideas to industry professionals.
source:
Social Media Week
via
The Nokia Blog