Nokia's N1 Android tablet is out of stock again (sold out in mere minutes)
23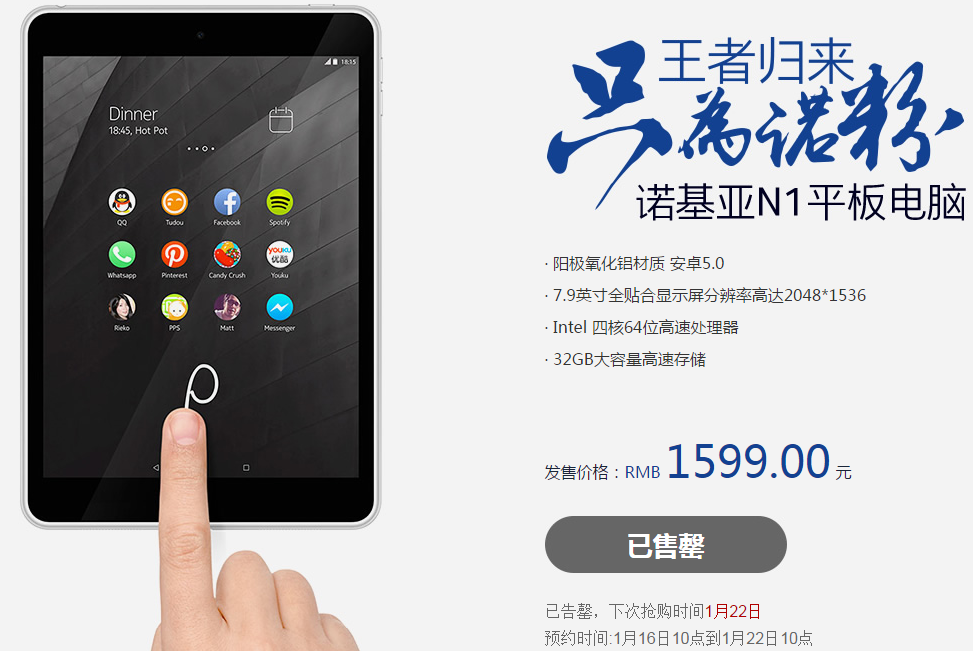 That's Sold Out written in Chinese characters
While there's no word on how many N1 units were ordered this time, it's obvious that the slate is somewhat of a hit. Reportedly, more than half a million Chinese customers showed their interest in buying the N1 - that's why the tablet sells out so fast. We're not shocked by this: since the day of its announcement (November 18, 2014), the N1 attracted massive media attention - not just because it's the first mobile device introduced by Nokia after selling its phone business to Microsoft, but also because it offers great features at a very attractive price.
For around $259, customers buying the Nokia N1 are getting an aluminum-made tablet with a 7.9-inch, 1536 x 2048 pixels display, a quad-core Intel Atom processor clocked at 2.3 GHz, 2 GB of RAM, and 32 GB of internal memory. The slate run Android 5.0 Lollipop with Nokia's Z launcher on top, and will be in stock again in China on January 22.
For now, China is the only country where the Nokia N1 is available to buy. The tablet should be released in Europe soon, with other markets possibly following after that.
Assuming you'll be able to find one, do you plan to buy a Nokia N1?