Nokia wireless charger juices up Qi-enabled Lumias
11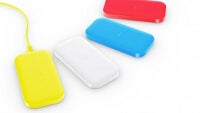 Running low on battery is one of the smartphone enthusiasts' most feared nightmares. Imagine what would happen if you have only 10% of your battery by noon, no chargers to be found around. Scary thought, huh? Aware of this fact, Nokia has released the DC-50 - a wireless charger that will power your battery up when your wall charger is absent.
The DC-50, which was unveiled at Nokia World almost a month ago, is roughly the same size as your smart phone, measuring 134x69x12 mm and tips the scales at 150g. You can't mistake it for anything else but another Nokia product – the bright live colors will certainly remind you of a Lumia 920 or 1520. The insides of the DC-50 feature a 2400mAh backup battery for your device, which relies on the Qi technology to transfer electricity from itself to a compatible device. Whenever you are running low on power and want to charge your Lumia all you need to do is put the phone on top of the little colorful brick and let the Qi technology do the rest for you.
The wireless charger itself can either be charged via a micro USB port or with another Qi-wireless charger. You can tell whether it is fully loaded and ready for action by pressing a button and checking a LED indicator. With the same button you can activate the travel mode of the DC-50, prolonging the life of its charge.
The DC-50 is currently exclusive to European markets, where it sells at around $120. Availability to the rest of the world is expected by early 2014.