Official figures show HERE Maps has been downloaded 2.5 million times from the Google Play Store
16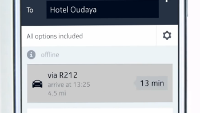 Just the other day, we told you that numbers from the Google Play Store showed that
between 1 million and 5 million times, the HERE Maps app had been downloaded onto an Android device
from the Google Play Store. So naturally, based on this estimate, we told you that the app was installed on more than 1 million Android devices.
But an estimate of 1 million to 5 million is so wide, you could drive a truck through it. So on Tuesday, Nokia decided to cough up the real official number. The popular and highly regarded mapping service has been downloaded 2.5 million times from the Google Play Store. That figure doesn't take into account the 1 million downloads that took place prior to the app's listing on Google Play, when it was just in Beta. HERE Maps can be installed on any handset running Android 4.1 or higher.
According to Nokia, HERE Maps is the top app in the Google Play Store's
Travel & Local
section. With 37,477 ratings, the app has a 4.4 average score. Since many Android phone owners have been
using Google Maps since the turn-by-turn directions launched
with the
Motorola DROID
, it might be hard to get them interested in a third party mapping app except as a curiosity. One nice thing about HERE Maps is its ability to work while offline, a feature that might be able to save you some precious data.
"Many of you know us for the Android app we recently released on here.com and Google Play. In 12 weeks it has been downloaded almost 2.5 million times. In many countries it's the top app in the Travel & Local section and it's been featured by many blogs as one of the best Android apps of 2014."-Nokia
Download HERE Maps (
Android
)
via:
NPU