Nokia uses freerunning champion Ryan Doyle to tout the Lumia 920 image stabilization prowess (video)
13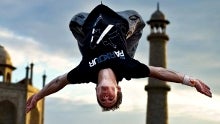 Now that we know
from trial runs
that the
Lumia 920
has a more advanced image stabilization tech than the only other handset that has OIS - the
HTC One
- Nokia isn't wasting time pumping this unique feature of its flagship handset even more.
This time it used the help of "
freerunning World Champion Ryan Doyle and traceur (that's the official title for a male parkour practitioner) Will Sutton
" to show off. The guys had a Lumia 920 strapped to their chests to film footage, and ten other 920s were used, each recording from its own handheld or head cam mounted perspective. For the bird's eye view shots, one of the Lumias was strapped to a radio controlled Cinestar Octocopter, and the video below is constantly switching between perspectives for a better idea of the daredevil experience.
Needless to say, the chest shots from the two freerunners themselves make a cameo only a few times, as there is no amount of image stabilization tech that can keep a steady perspective during all those jumps and sommersaults.
Recommended Stories