Nokia talks shop on the Lumia 820, more intricate details emerge
37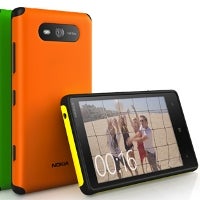 After detailing the choice of back covers that can add additional functionality to your
Lumia 820
, now Nokia sat down and answered some questions about the upcoming Windows Phone 8 handset.
The Finns invited tech bloggers to a Q&A session about the device, which was manned by Tuukka Jarvenpaa, Senior product Manager at Nokia and Camilla Lindman, also Senior Project Manager.
Nothing grounbreaking came out of the session, but a number of intricate details about the Lumia 820 was revealed to fill the information void, while we are patently waiting for Microsoft to finish the work on Windows Phone 8, so it can be loaded on Lumias, and shipped to store shelves in time for the holiday shopping spree. Here is the list of things confirmed about the device:
The NL 820 supports 64 GB microSD cards.
The battery needs to be removed to insert or replace the card.
The screen is not Gorilla Glass, but is scratch resistant.
The snap-on covers made the device both Uni-body, which is good, but also versatile, for example adding wireless charging or a rugged shell.
The camera is module is the same as the Nokia Lumia 900, but features a new software experience which is "greatly improved and new"
Nokia is "looking at the possibilities" of a standby clock on the screen when the device is sleeping.
The rugged case did allow Nokia to address different channels such as both consumer and business with the same device.
Nokia did not comment whether future devices will also have wireless charging.
Nokia may look into a rugged shell with wireless charging included.
Nokia could not talk about delivery dates, pricing and availability yet.
They were able to have better battery life on the NL 820 despite a smaller battery due to the Snapdragon S4 engine with improved power management capabilities and also Nokia know-how & expertise on the power management.
They hopes to leverage the fact that Qi wireless charging is an open standard, but could not comment on 3rd party plans.
The NL 820 has a WVGA screen due to "much better readability for our consumers on the display size and due to the fact that the performance, mainly FPS, is something amazing in the new Lumia 820 OLED display with that specific resolution."
The NL 820 screen features Nokia's ClearBlack display and other Nokia specific features like Sunlight Readability Enhancement.