Nokia shows how you can keep your phone charged, with a solar panel suit
18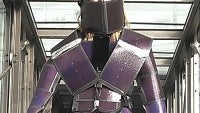 We know, storing energy via solar panels is nothing new. A lot of people still think you need direct sunlight to make them work though. In fact, that is not the case, and new technology is making the solar panels not only more efficient, but more robust, able to withstand abuse.
Nokia's sustainability initiatives show that not only can you stomp on these panels and expect them to work, but you can also weave them together into a solar suit and keep your phone charged all day long.
Granted, we know wearing "solar armor" is not ideal, and the fashion statement is amusing, if but for a few minutes, but think of the next steps as they think of way to weave solar cells into the fabric of our shirts or jackets. After all, below in the video, a
Lumia 1520
is kept fully charged all day using indoor light.
Soon, putting your smartphone in your pocket may mean more than just stowing it away, it could also be a means for charging it. So, while it is a bit outlandish to think of having to don solar panel suit of armor, it is not out of the realm of possibility that our clothes will someday keep our gadgets charged and ready to go at all times.
source:
Nokia
(YouTube)