Nokia posts full Lumia 900 CES 2012 keynote with appearances from Stephen Elop, Steve Ballmer and Ralph de la Vega
13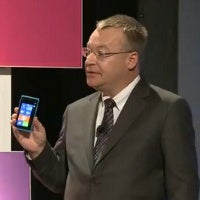 We've been puzzled with Nokia's strategy to first bring the affordable Nokia Lumia 710 to the American market, but the Lumia 710 turns out to be only part of the strategy. At CES 2012, Nokia unveiled another piece of its Windows Phone puzzle and that's the Nokia Lumia 900 - a 4.3-inch device built for the North American market with LTE support and specific content. It comes after nearly a year of Nokia's announcement that it will partner with Microsoft and adopt its Windows Phone platform.
Nokia's presence has been key in the attempt to strengthen WP and make it the third ecosystem after iOS and Android, but while the platform itself looks almost on par with the big two, it still has to do some catching up in sales.
Will the Lumia 900 be the product to truly make it shine? Take a look at Nokia's CES 2012 keynote with appearances from Nokia CEO Stephen Elop, Microsoft's man-in-charge Steve Ballmer and AT&T's chief executive Ralph de la Vega giving you all the details you need.