Nokia places bets on color and simplicity to regain customers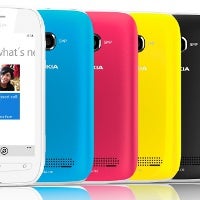 Nokia shares have just slided to their lowest in 16 years, hitting the rock bottom of 1.50 euro (around $1.9), but the company is saying that by the end of 2013 users would have forgotten about its transition troubles. A bold statement given the grim reality, but what's more interesting is just how the company plans to achieve that goal. Design is key for the recovery of Nokia and it's the amalgamation of vivid colors and a simple form factor that has to work together with Microsoft's smooth Windows Phone 8 UI.
Nokia VP of design for smartphones Nikki Barton explained once again the huge importance that the Finns see in using "incredibly effective" colors. You probably already know that the Lumia series are offered in many bold and colorful options like cyan, yellow and magenta.
This aligns perfectly with Windows Phone's colorful tiles, so you can adjust those tiles to match in color your phone or contrast with the phone's body.
Not only that but Nokia is proud of the unibody polycarbonate construction that even when scratched will still have the same color show up underneath as is on the surface. This whole-paint approach is actually so difficult only one vendor can make, say, a cyan unibody polycarbonate device.
"I'm extremely proud of what we're producing,"
Barton said.
"That's what drives me personally."


But while we like the colorful options in the Lumia range, we couldn't help but notice that Microsoft has freely taken and used the very same idea in its surface tablet which arrives in the same vivid colors yet is not made by Nokia. Could that be a threat to the Finns in the future? Or could other company simple mimic its approach if it turns out successful? Time will tell, but you can join in with your guesses in the comments below.
source:
Forbes