Nokia might launch a "portfolio" of Windows Phone handsets this year, including one with a keypad
4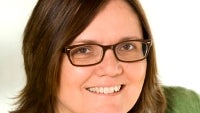 Forbes sat briefly with Nokia's Jo Harlow, the Executive VP of Smart Devices, and a couple of interesting things ensued.
First off, while not tying herself with a concrete timeframe, Jo Harlow says about an eventual handset appearing as soon as this year: "
I'm quite pleased with our progress. Our target is absolutely still this year… and the target looks good.
" Not only that, but she also mentioned that there might be not one, but a few Nokia Windows Phones outed in the first batch, a "
small portfolio
".
Rumor had it they might resemble some Symbian phones, judging from the way the
leaked renders
resembled the
Nokia C7
a bit. Jo Harlow, however, stated that "
One of the differentiations we intend to bring to the Windows Phone platform is hardware innovation. You will see that in our first devices and our future devices.
", plus also calling the early renders "
not characteristic
" of the first Nokia Windows Phone devices that will be out.
Oh, Nokia, you are such a tease, leaving us guessing now what this "
hardware innovation
" might be. Is it a dual-core chipset? Nah, that's hardly innovative considering all the high-end Androids plus the next iPhone will carry two CPU cores. Moreover, in that regards Jo Harlow clarified that they are looking into dual-core, both for Nokia Windows Phones, and for Symbian devices, but the implementation should be carefully executed to get the best performance/battery life ratio. So if Nokia is not 100% certain dual-core chipsets will make it in time for the first batch, because of battery life constraints, could it be extended battery life will be their focus? We sure hope so.
Jo Harlow also said that the majority of the Nokia Windows Phone work is concentrated in four places - San Diego, where Nokia has big R&D center, two Finnish cities, and Beijing, where work is being done on a
CDMA version for Chinese carriers
. NFC was also given the spotlight as an area efforts are focused in, but Nokia Maps, as we know it from Symbian devices, won't make it in the Windows Phone Mango update. It will still be
Bing Maps with voice navigation
there, until both services merge with Navteq as the underlying map source.
In the meantime a report emerged in Taiwan Commercial Times that Compal Communications has already received orders for the
first two Nokia Windows Phones
. No further details have been given, rather that production is slated for the fourth quarter, and one of the phones will be touchscreen-only, whereas the second "sleek" one will have a
keypad
. We bet the keypad version, if it exists, is for those loyal fans who still can't imagine their Nokias without one.
source:
Forbes
&
Reuters
Recommended Stories