Nokia killing Symbian and MeeGo support at the end of 2013
25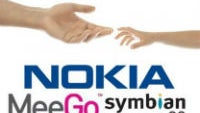 Nokia had already begun winding down support for Symbian and MeeGo as it went all in on Windows Phone; and, now that Microsoft is in the process of attempting to purchase Nokia there isn't really much hope that either Symbian or MeeGo could make a comeback. Today, Nokia made it official though, announcing when support for the platforms will officially end.
A couple years ago, Nokia agreed to
outsource Symbian
software development and support to Accenture, which said it would continue to support the platform until 2016. But, that may not be worth the effort, because in an email to developers, Nokia has said that it will stop supporting submissions and upgrades for Symbian or MeeGo apps that are distributed through the Nokia Store. This means developers will no longer be able to publish new Symbian or MeeGo app content to the Nokia Store as of January 1st, 2014.
Nokia says that it is doing this in an effort to shift focus to Asha and Windows Phone, which are to be the main platforms for the company moving forward (and presumably this includes if the Microsoft deal goes through because Microsoft is acquiring Asha in the deal.) Not too many people still use either Symbian or MeeGo, so this is really more of a formality at this point.