Nokia gives you 10 reasons to want the Nokia Lumia 1020
90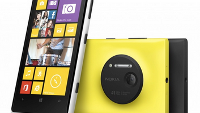 The
Nokia Lumia 1020
took the majority of our attention this past week. And while our loyal readers probably don't need any encouragement to lust in their hearts for the handset the same way that Jimmy Carter told Playboy in 1976 that he lusts after...uh...let's just say peanuts, Nokia has posted a
top ten list
of reasons to want the device.
We will pass along the list in the same order as Nokia did. The first reason is the 41MP camera sensor. There is also the ZEISS optics and the Optical Image Stabilization. If photography is your thing, you don't need any more reason to buy the Nokia Lumia 1020 than this. The second reason to buy the phone is the Nokia Pro Camera software which helps you change the exposure level, white balance, shutter speed and film ISO. The software combines with the camera hardware to make you a
better photographer
.
According to Nokia, the Finnish OEM had to add ball bearings to the camera which happens to result in better low-light pictures and smoother videos.
We've seen the OIS in action
and the results are impressive. In addition, Nokia's dual capture takes two pictures with a press of the shutter. One is a full resolution shot for you to edit while the other is a 5MP photo for you to share with your social networks. Those are reasons three and four.
Reason five is the editing possibilities that the Nokia Lumia 1020 gives you, including the ability to re-frame and re-zoom. And don't forget the next-gen Xenon flash on the phone which can light up a picture even at the fastest shutter speed of
1/16,000th of a second
. And that shutter speed is another reason by Nokia to buy this model. You can also set the shutter speed to as long as 4 seconds. The point is, you are the creative genius with this handset.
When taking videos with the Nokia Lumia 1020, you can zoom in 6 times without losing any picture quality and sound quality is enhanced using Nokia Rich Recording stereo. And finally, Nokia says that the model is a super smartphone, too, with access to 165,000 apps and 22 million songs in Nokia Music.
Now that Nokia has given you ten reason to buy the Nokia Lumia 1020, are you any closer to pulling the trigger? Pre-orders begin on July 16th with the phone shipping ten days later. And yes, it is an AT&T exclusive, at least for now.
source:
Nokia
via
GSMArena