Nokia finds the perfect product placement in Enrique Iglesias' latest music video
15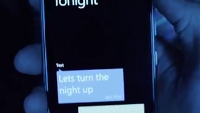 Enrique Iglesias' latest music video called
Into the Night
is the perfect vehicle for Nokia to score a product placement with, for the
Nokia Lumia 925
. First of all, we can tell its the Lumia 925 right from the beginning of the video.On a passenger's side seat of a car, we see the phone's display showing the always-on clock that is part of the GDR 2 update which happens to come pre-installed on that model (and we can tell that its not the Nokia Lumia 1020 which also has the update installed out of the box).
With the video called
Into the Night
, we were expecting it to show the Nokia Lumia 925 doing its thang. In other words, snapping some pictures under low light conditions. We weren't disappointed as the video shows the phone being used to take some snapshots in a dark club. We can see that this is the perfect image that Nokia is aiming for. Young, hip, monied crowd looking for a phone that can take great pictures in dark clubs. Looks like Nokia nailed this product placement.
Thanks, Anonymous Tipster!
source:
YouTube