Nokia aiming for November 2nd AT&T launch of the Lumia 920
63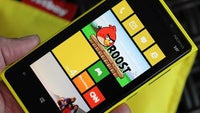 After watching Nokia show off some sexy new hardware at their
press event Tuesday
, many of you were left with one important question: When can I pick one up? Two independent sets of
tipsters have pointed to November 2nd as the target date for launching the Lumia 920
, Nokia's flagship Windows Phone 8 handset, on AT&T. It's also possible that the Lumia 820 could launch in the same time frame.
According to a report on The Verge, Nokia is working in earnest with Microsoft and AT&T to get all of the necessary testing and certification out of the way –
a process that is more difficult than normal because WP 8 hasn't hit RTM status yet
(when the final version is released to manufacturers). That means Nokia, already viewed as more of a hardware company than a software one, has a moving target when it comes to integrating their shiny new Lumia phones with Microsoft's latest mobile operating system.
Like any phone the date could slip later into the year if there are any hiccups during that process
– considering how often we devices delayed from their target date we might even consider the possibility likely. We especially think the Lumia 820 may not make that date, as it was only mentioned by one set of tipsters, and if there is a choice to be made with limited company resources we suspect that Nokia would quickly sacrifice the launch date of the 820 in order to push out their flagship device.
Early November would actually be quite a rapid turnaround – basically 6 weeks from getting the final OS to get through integration, carrier testing and certification, and full distribution. But despite the odds
Nokia and Microsoft are under a huge amount of pressure to get the devices out
– November 2nd is already getting into the holiday shopping period, and they will already be releasing after the new iPhone, and possibly against several Nexus devices. Having the date slip into late November or even early December would be understandable from an engineering perspective, but would put them in an unacceptable hole when it comes to market position.
Quite simply, neither Microsoft nor Nokia can afford for their phones to push back any further. We've said repeatedly here at PA that Windows Phone provides a nice alternative take on a mobile OS, and we always believe that more competition is a good thing. So we're all pulling for Nokia to hit that early November target, but they may face an uphill battle to do so.
sources:
The Verge
,
TechRadar