Nokia admits mistake on its website relating to the Nokia Lumia 920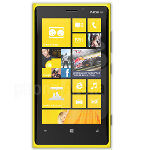 Those who have perused Nokia's web site might have noticed that it says that the
Nokia Lumia 920
, the upcoming Windows Phone 8 flagship model, supports the AWS 1700MHz band. That might have excited some of you out there who were daydreaming about taking an unlocked model of the phone and running it over T-Mobile's unlimited network.
worth spending the cash
on outfitting the phone to work on that band. T-Mobile customers interested in Windows Phone 8 could always turn to the
Nokia Lumia 810
or the
HTC Windows Phone 8X
. Or, you could
wait until the 1900MHz PCS is refarmed in your area
, but who knows when that will happen?
The correct information for the Nokia Lumia 920 should read as follows: U.S. Version GSM/EGSM 850/900/1800/1900, WCDMA 850/900/1900/2100, LTE 1700/2100 (4), 700 (17). International and unlocked version GSM: 850, 900, 1800, 1900, WCDMA: 2100, 1900, 850, 900, LTE: 2100, 1800, 2600, 900, 800.
Nokia has admitted the mistake and said it would change the website.
source:
WPCentral