Nokia ad says that the 1020 is a "camera first"
17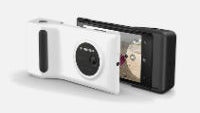 It probably isn't something that necessarily needed to be said, but it does make for some compelling ad copy: the Nokia Lumia 1020 is really a smartphone second and a phone first, much like the Samsung Galaxy Camera. Although, because we can mention the Galaxy Camera, it is a bit more difficult for Nokia to pull off saying the Lumia 1020 is "the first smartphone to put the camera first".
Still, the ad is a solid one, and the Lumia 1020 is definitely packing an impressive camera. The ad itself doesn't show anyone doing anything else with the phone, and really aside from the final shot of the phone, it doesn't even show the Windows Phone OS. Of course, it doesn't help that the Lumia doesn't even make an appearance until halfway through.
Will this ad be what the device needs, since we're hearing it is off to a
slow start
on sales?