Nokia X press image leaks out: sorts out the name of Nokia's first Android smartphone
38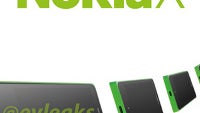 The
Nokia X has been leaking out extensively over the last few weeks
, and the more we learned about it, the more we understood that Nokia's first Android smartphone would be more of an Asha replacement, an affordable gadget, rather than a higher-end device that would compete with devices the ranks of the Samsung Galaxy S4 and HTC One.
Now, what looks like an official press image of the Nokia X has leaked out and it comes from the web's leaker-in-chief @evleaks. It confirms that Nokia X will indeed be the official name of the handset that we were used to referring to as
'Nokia Normandy'
(Normandy is said to be the internal codename for the device). You can clearly see that the Nokia X will indeed be a colorful device with green being at least one of its colors.
We have earlier seen leaked information about the Nokia X saying it'd come with a 4-inch screen and the run on Android masked with an interface that is a mixture of Asha and Windows Phone's tiles. The rest is a bit controversial. Rumors diverge on some specs like the camera that could be either a 3- or a 5-megapixel one, as well as on the Android version (some say that it'd come with KitKat that seems logical, and others have suggested it'd run on the dated Android 4.1 Jelly Bean).
At least, now, it seems we've settled on the name. For all the rest, we'll update you in just a few days - the Nokia X should finally get officially unveiled there.
source:
@evleaks