Nokia X and Nokia X+ hands-on: a promising start
32
It is still a bit hard to believe that Nokia just jumped on board the Android bandwagon, yet here we are, holding the Android-powered Nokia X and Nokia X+. These two, however, feel and act like anything but Android handsets, which is not necessarily a bad thing, depending on how you look at it. They both promise a lot, all the while costing very little, which could potentially draw the attention of the budget-conscious crowd. But even with Android software support, are they actually decent, attention-worthy phones?
Design
When it comes to design, we find no differences between the Nokia X and the Nokia X+. Really, it is next to impossible to tell which one is which when looking at the two smartphones side by side. Both are solid handsets with a sturdy feel, built of brightly colored plastic. The size of the Nokia X and X+ makes them ideal for single-handed operation and our thumb can effortlessly reach any area of the display.
The power and volume keys are positioned on the right sides of the Nokia X and Nokia X+ phones. We see nothing wrong with their design as both are sufficiently raised and respond with a pleasant click when pressed. The 3.5-millimeter headphone jack is on the top while the microUSB port is on the bottom. Below the displays of the Nokia X and Nokia X+ we find a single capacitive key, which takes us a step back when pressed once, and back to the home screen when long-pressed.
Display
Given the low pricing points of both the Nokia X and the Nokia X+, we must say that we're quite pleased with their capacitive touchscreen displays. The two feature an identical IPS LCD screen with a resolution of 480 by 800 pixels, which is a pixel count acceptable for a 4-inch display. Viewing angles and color representation also seem pretty decent. One thing that's missing is a super-sensitive touchscreen, but we weren't expecting to find perks like these on an entry-level phone anyway.
Interface and functionality
The Nokia X Software Platform, as Nokia calls it, looks nothing like Android. And you know what, we're not complaining for the software feels intuitive and it is easy to get the hang of it. Nokia's UI has been clearly inspired by Windows Phone, with tiles of various sizes and colors, but inspiration has been drawn from other platforms as well since we find a global search bar that pops up after a downward swipe. An app drawer seems to be missing. Instead, all installed apps are listed in a vertical home screen and can be organized in folders. A swipe down from the top of the screen brings forth a panel with toggle switches for your Wi-Fi, Bluetooth, data connectivity, and so on.
Swiping to the left or right side takes us to the Fastlane, which is kind of like a supercharged notification panel. It lets us keep track of missed calls and unread text messages, but it would also display information fed from social networks and messengers. In addition, shortcuts to favorite and recently used apps are present. The music player controls can be accessed quickly from here as well.
There's a ton of goodies that Nokia has pre-loaded on both the Nokia X and the Nokia X+, including Nokia's Mix Radio and Here Maps with support for offline maps and navigation. Additional apps can be installed via Nokia's own marketplace, or via third-party marketplaces, such as the Yandex store with its catalogue of over 85 000 Android apps. Speaking of Android apps, one of the key selling points of the Nokia X and Nokia X+ is that they run Android software. Yes, even if you side-load your own APKs. Software compatibility, however, isn't 100% ensured, and given their humble hardware specifications, we doubt that heavy games and apps would run well on the X and X+.
Processor and Memory
You won't find much under the hoods of Nokia's X phones. Both pack a Qualcomm dual-core processor that can reach a maximum of 1GHz. 768MB of RAM are present on the Nokia X+, while the Nokia X has only 512MB of RAM. But nevertheless, the UI is light enough to run near-flawlessly even on a low-end hardware configuration like that. Even the several pre-loaded games ran well on both devices, although we bet that graphics-intensive games would be next to unplayable.
Storage space is one of the weakest links of the Nokia X phones. You get less than 2GB for your photos, apps, and music, which is why equipping them with a microSD card is pretty much a must. Thankfully, the Nokia X comes with a 4GB microSD card out of the box. If you don't mind relying on cloud-based storage, you're free to use Microsoft's OneDrive, which provides Nokia X owners with 7GB of storage at no cost.
Camera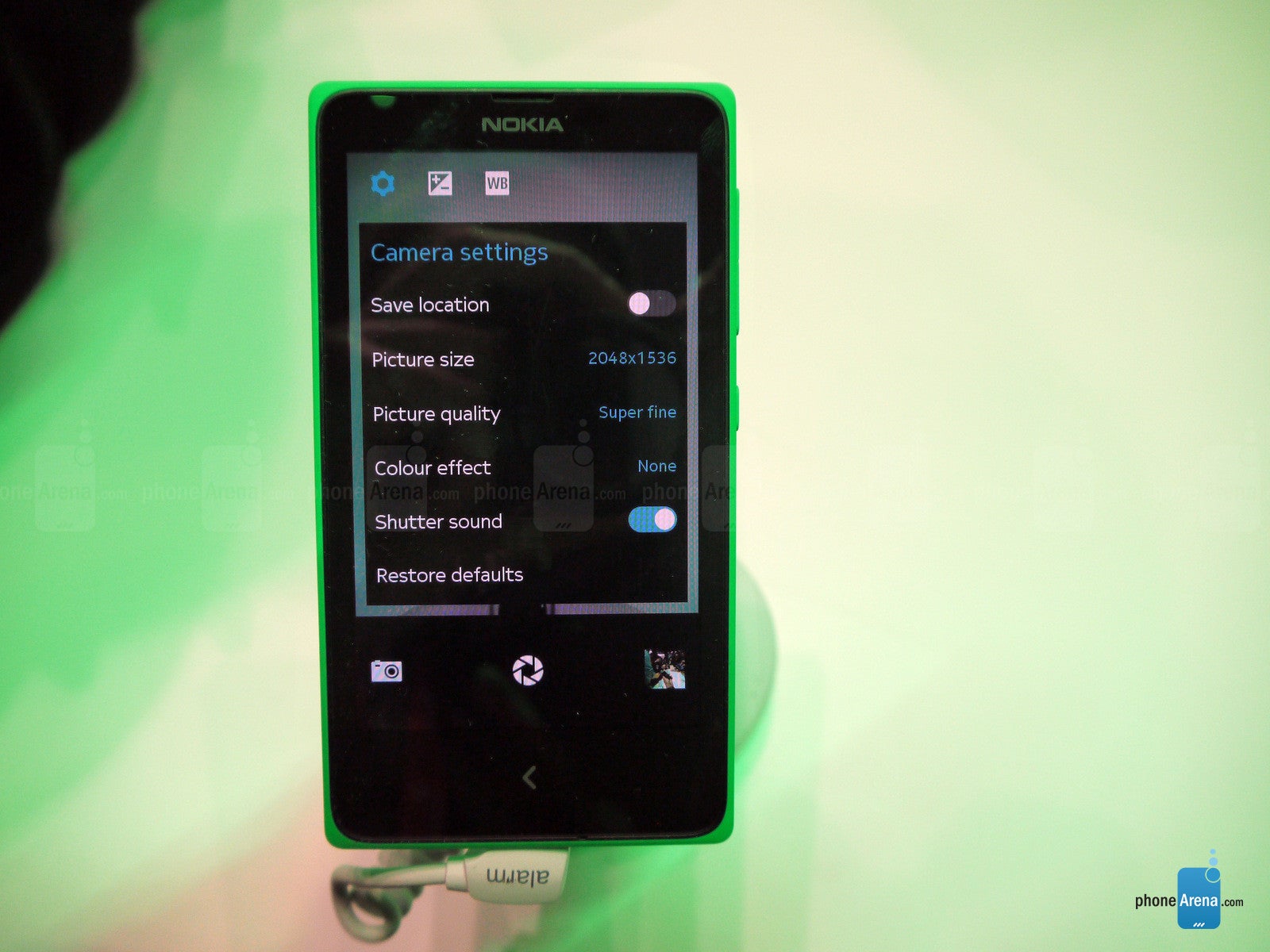 We know that having a basic camera is better than having no camera at all on your phone, but really, we don't see ourselves using these phones' 3MP snapper unless no other camera is around. Both handsets sport an identical 3MP fixed-focus camera with no LED flash. The software exhibits some shutter lag, which is definitely not a good thing. A number of settings are present in the camera app, including white balance and exposure adjustment. Panorama mode and video recording are present as well. Selfies will be hard to pull off with this phone because of its lack of a front-facing camera.
Expectations
Hardly a surprise, the Nokia X and Nokia X+ phones have their weaknesses, but they're definitely not to be underestimated either. In fact, they do have the potential to grab a chunk of the entry-level smartphone segment thanks to their aggressively low prices. To be more specific, the Nokia X will launch at 89 euro ($122) and the Nokia X+ will be priced at 99 euro ($136) before taxes and subsidies. That's definitely not bad for a brand-name 4-incher that can run some Android apps, all the while providing access to goodies like Nokia's Here maps and the wonderful Mix Radio service. We have high hopes for Nokia's X phones and we'll definitely be keeping an eye on their development over time.