Nokia N900 hacked for dual boot-up of Maemo and Android
This article contains unofficial information.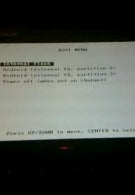 As great as the Maemo OS is on the Nokia N900, it also can do something else that the Finnish based company never advertised. Thanks to the hacking abilities of Brandon Roberts, his N900 was able to boot up with two operating systems on his device at the same time. Besides the Maemo 5 that the N900 is shipped with, Roberts was able to squeeze one of the Android builds onto the phone so that when you boot up, Google's open source OS is an option on the Boot Menu. If most of the key features of the N900 work with Android, teaching your N900 to switch hit might end up being worthwhile. Roberts, on his own site, calls himself a "mobile phone addict, linux user, open source supporter, web developer, sports fanatic and overall internet abuser." Roberts gives no instructions on how he accomplished the dual OS action on his N900. According to his comments, "It's more proof of concept, but it's real and could be spectacular :)"
source:
Brandon'sPosterous
via
SlashGear