Nokia N9 expected to launch August 19th
9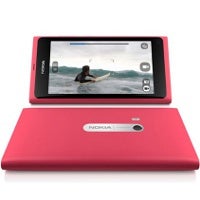 Nokia hasn't inspired much hope for the future of MeeGo and the Nokia N9, but the captivating UI and colorful design might have intrigued you. Now, it appears that the handset is closer to launch as a Kazakhstan-based retailer has it listed as available for
August 19th
. The off-contract
price
stands at
nearly $685
. At the same time, the N9, went up for pre-order in Russia, one of Nokia's traditional markets where the phone expected to sell big.
Just two days ago, the Nokia N9 cleared yet another hurdle on the road to the market by passing FCC certification. It has also recently appeared on various country-specific Nokia websites countering rumors that the phone won't be available at all in most
Western markets
.
The N9 features the touch and swipe-centric MeeGo and sells in a 16GB and 64GB versions with off-contract price expected to reach nearly $750 for the latter. With a 3.9-inch screen, 1GHz TI chip and an 8MP Carl Zeiss shooter, the phone definitely has the muscle to back up the platform, but is this enough for you to get it? Feel free to share your thoughts in the comments below.