Nokia Lumia 929 for Verizon is codenamed "Icon"
14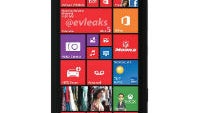 We've seen a couple of
leaked
pictures
of the upcoming Nokia Lumia 929 for Verizon, and we have a general idea what to expect on specs. But, now we have the answer to a question we know that all of you were curious about: what is the codename for the next Windows Phone flagship for Verizon? It turns out that the codename for the device is "Icon". This little bit of trivia comes from prolific leaker Evleaks, who apparently doesn't have much going on these days.
It's unclear exactly when the Lumia 929 is going to hit Verizon, but what we do know is that the device is going to be a "GDR3" update to the current
Nokia Lumia 928
. By that, we mean that the hardware is getting bumped up to the levels supported by the Windows Phone GDR3 update: a Snapdragon 800 processor and a 5-inch 1080p display. The device is also expected to carry a 20MP camera similar to that on the
Lumia 1520
, and 2GB of RAM.
We're sure that Nokia wants the device on shelves before Christmas, but we'll have to wait and see. There have been multiple release dates rumored and passed by without seeing the device, so there's really no telling when it will be released.