Nokia Lumia 928 and its high-performance microphone get demonstrated at a NY subway
18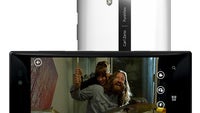 This time around, Nokia is showing off the audio recording superiority of the Lumia 928 against... Samsung's flagship of last year – the Galaxy S III. The demonstration takes place in a New York subway station where a band is playing some funky tunes. Unsurprisingly,
the Lumia came out victorious thanks to its high-performance microphone
, which is capable of capturing audio at high volumes without distorting it. The Samsung Galaxy S III, on the other hand, may sound louder in the video, but its microphone can't quite handle the high sound pressure level, which results in audible distortion.
Of course, let us not forget that the Nokia Lumia 928 has yet to be tested against flagship smartphones from 2013, such as the HTC One or the Samsung Galaxy S4, both of which are probably better at capturing audio than the Galaxy S III. Yet that's going to happen once the Lumia 928 finally hits the shelves. Sadly, we have no information as to when Nokia's new hero is going to launch.
Recommended Stories