Nokia Lumia 925 getting "Peek" feature to quickly see the time
15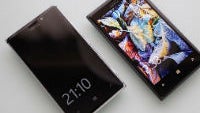 We're all hoping that the Nokia Lumia 925 is part of today's big
announcement from T-Mobile
, along with the rumored unlimited upgrade plan called "
Jump
", and in the leadup to the event, we're getting to see some cool new features that will be in the Lumia 925. The new features we're seeing are all on what Nokia calls the "Glance" screen, which is separate from the lockscreen.
As with any other phone, pressing the power button will bring up the lockscreen on the Lumia 925, and Nokia has added an option so you can simply double-tap the screen to also bring up the lockscreen. But, there is also a new option, which Nokia is calling "Peek", which brings up the "Glance" screen by waving your hand in front of the display. Currently, bringing up the Glance screen just shows a black screen with the time as well as a notification showing if your phone is in silent/vibrate mode.
There isn't much to it now, but this could easily be a good spot for some quick toggles, like silent/ring mode, airplane mode, WiFi, and Bluetooth toggles. Although, it's unclear if that is the plan for the future.