Nokia Lumia 925 being tested on AT&T
3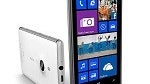 Although it is destined to launch in the US as a T-Mobile exclusive, stats captured off Occasional gamer show the
Lumia 925
on AT&T's network.
To add more intrigue, the Lumia 925's specifications on the Nokia Developer site confirm the US variant of the 925, RM-893, does support LTE band 17 (700MHz) which is used by AT&T. What do you think is going on?
We could grab at any number of reasons, but the simplest explanations are usually in the ballpark. If a customer bought one from T-Mobile outright and was not bound by an equipment purchase plan, it would allow them to use the device on AT&T's LTE network. It is also possible that AT&T will offer the Lumia 925 to replace the 920 after the T-Mobile exclusivity period ends.

Specs from the Nokia Developer page show the Lumia 925 supports LTE on both T-Mobile and AT&T
With the expectation that AT&T will also carry the Nokia EOS, that is not such a difficult concept to grasp - pack the bench with winners and you will attract a lot of attention. Also, as more carriers' LTE services become the norm, and as
chipsets are able to handle more carrier bands without taking up more room
, it will be more and more common that all these devices will work on different bands, much the way most late-model HSPA handsets do today.
Short of AT&T offering the Lumia 925 directly, it is not outside the realm of possibilities that Nokia would want to sell unlocked models after the T-Mobile exclusivity deal is over as well. Either way, it looks like folks on AT&T that think the Lumia 925 is calling their name might be able to answer.

source:
Nokiapoweruser