Nokia Lumia 920 now has dominant global share of Windows Phone
51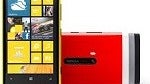 A month ago, we shared a report released by AdDuplex that revealed a rather surprising statistic,
Verizon's Nokia Lumia 822 held a stronger position than the flagship Lumia 920 on AT&T
. Both models are exclusive to their respective carriers.
The Lumia 920 was actually fourth in the worldwide rankings in AdDuplex's report just a month ago, but oh what a month it has been, because now based on the most recent statistics, the
Lumia 920
has crept to the top spot.
The data is drawn from Windows Phone apps that use the AdDuplex SDK, a sampling that covered nearly 500 applications in action. This time we are provided with a lot of data not just of the "world" of Windows Phone, but the US, several countries in Europe, China and Australia.
All-in-all, the Lumia 920 is making a strong showing, but in some countries it is still second fiddle (or lower). In France, the
Windows Phone 8S by HTC
is tops by a sizable margin over the Lumia 920. Similar circumstances prevail in Italy and Ukraine. In the US, the
Lumia 822
still holds the top spot, despite AT&T having a dominant overall position of Windows Phone subscribers.
Another interesting statistic has to do with the penetration of Windows Phone 8 in countries that were also part of the launch of Windows Phone 7. France and the US are leading the pack while Mexico, Spain and Italy do not have much of a showing for Windows Phone 8.
As you would expect, Nokia dominates the overall global market for Windows Phone, a full 80%, and while that is an impressive portion of the pie, we do need to remember that the pie itself is small (albeit growing). In the coming months these statistics will be interesting to see as the new
Lumia 520
and
720
make it to market this spring.
source:
AdDuplex