Verizon's Nokia Lumia 822 outselling AT&T's Lumia 920?
28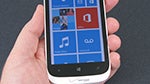 AdDuplex released a report based on data gathered from Windows Phone applications that use the AdDuplex SDK.
AdDuplex is an advertising platform that some developers build into their apps so they can offer them for free, but get some revenue support through advertisements. Many developers also choose this path because it can enable a steady stream of financial support whereas a purchased app will commonly be a single financial hit.
To that end however, AdDuplex gathered data from about 389 Windows Phone applications and it drew a very interesting picture of not just devices involved, but in the growth of Windows Phone 8 around the world. One of the most surprising pieces of information in the report was the by-device market share in the US.
The
Nokia Lumia 822
has a bigger slice of the pie than the flagship
Lumia 920
, despite Verizon having a smaller overall share of the Windows Phone marketshare (not surprising). The
Windows Phone 8X by HTC
has a solid showing in third place overall. Windows Phone 7 devices still have a strong hold in the UK, where the Lumia 800 hold a commanding portion of the market. By country, the US is only slightly ahead in overall share, as the distribution across the major markets is fairly even across the top five markets overall, US, India, China, Mexico and Italy.
This proves that most people do no typically leave their carrier solely to acquire a device, and if that continues, imagine what Verizon's share of Windows Phone will look like if the
rumored Nokia flagship makes an appearance
.
source:
WPCentral