Nokia Lumia 900 torn down: looking inside the unibody shell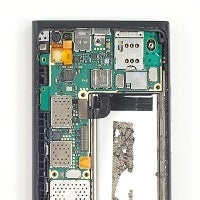 The
Nokia Lumia 900
is supposed to be the first big Nokia Windows Phone to mark the company's return to the US market, but it's been met with lukewarm reviews. It's not bad, actually it might be the best Windows Phone to date and it has a very lucrative price of $99 on contract, but it's just not revolutionary in any way. But how does it stack up when it comes to repairability?
Folks from TechRepublic were the first to tear it down and reveal its guts. First thing you probably already know - the Lumia 900 is made out of a
single piece of polycarbonate
giving it a sturdy feel. The screen and all of the internal fit in that, but it's not too hard to remove if you know the trick. And the trick is that you have to pop out the SIM card holder, and then push into the hole next to it to unlock the front panel locking pin. And voila, that's how you remove the screen and get a first glance at the motherboard, full of EMI shields.
Torx screws and a little effort, and you can completely detach the screen and access the battery. It doesn't seem to complicated, but you really need to know about the
weird mechanism for opening the Lumia
. Otherwise, you could just break it.
The full step-by-step video tutorial is below and you can also take a look at Lumia 900 torn down. Sadly, the internal silicon is nothing impressive - you have a single-core processor running at 1.4GHz and 512MB of RAM. It runs Windows Phone smoothly, but it's not as future proof as we would wish.
Don't forget to also check out our detailed
review of the Lumia 900
and let us know your initial impressions about this LTE-enabled phone for AT&T - do you like it?