Nokia Lumia 800 sold out in UK
14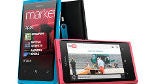 The reports about the sales of the Nokia Lumia 800 have been up and down, and somehow the news that the device has sold out in the UK still doesn't clear up the speculation over whether or not we can call this a successful launch.
On one hand, Nokia has reported that the Lumia 800 has sold out in the UK. The trouble is that we don't know how big that launch was. As we reported a couple days ago,
estimates for the launch shipment
of the Lumia 800 had been cut from 2 million units to possibly as low as fewer than 500,000 units. Nokia hasn't commented on that speculation, but did say that it was actually having its "
best launch in recent history
". Of course, as many of you pointed out, Nokia hasn't really had any major releases in a long time either.
It is possible that Nokia is just being very careful with its sound bytes to make this launch sound better than it has been. Knowing that the Lumia sold out is a promising sign, and maybe that news alone will help drive some sales when the device makes it to North America. But, selling out 2 million units is very different from selling out 500,000.
Recommended Stories