Nokia Lumia 800 modded to support wireless charging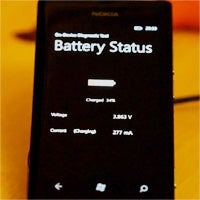 Wireless charging
is great. You don't have to worry about untangling your power adapter from your nest of wires to plug in and you don't have to mess with doors and covers over power connectors on devices that have those. You just slap your device on top of the charging station and you're good to go.
As you know the Nokia Lumia 800 doesn't have wireless charging – well, we should say all but one doesn't. In the video at the bottom, Oli Gill mods his Nokia Lumia 800 to add wireless charging with the help of a Touchstone charger.
Let us warn you now; this mod is not for the faint of heart. It requires disassembly, cutting up the insides and soldering – needless to say it voids your warranty. If you're still ready to dive into this mod, check out the video below.
Oli speeds through the disassembly part to get to the actual mod, but he provides a link in his YouTube description to a wonderful disassembly tutorial. The metal inside the phone actual blocks the charge box from working with the charger, so he uses a Dremel to remove some of the metal. He then mounts the charger inside the phone, solders it, and there you go – wireless charging on the Nokia Lumia 800 with a Touchstone.
source:
WPCentral