Nokia Lumia 720 shows all, inside and out to the FCC, AT&T to get the first run?
16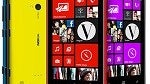 The new
Lumia 720
may be a middle-weight in the realm of smartphones, but it made a big splash at MWC.
We have already seen hints the device will be offered up in the UK beginning April 1st with an expected price tag of about £249.99 (£299.99 w/VAT or $448). We also caught wind of what the Lumia 720 might fetch €379 ($492) in Germany, but no release date is known.
Now, the 720 has shown the FCC all the goods, submitted this past Monday. Word has it that AT&T will get the first go-around with the device then other interested carriers will pick up the goods very shortly thereafter. However, based on what we outlined in our own product specifications page, and confirmed as we browsed through the SAR report, this device will not be arriving on Verizon, Sprint or any other CDMA carrier in the US, nor does the device support T-Mobile's 1700MHz AWS frequency band. However, T-Mobile has been making big moves deploying HSPA+ in its 1900MHz PCS band.
There is no LTE support for the device, but the trade off is a very capable handset, packing a lot of premium features without breaking the bank. We think that is a winning combination, except for the fact that AT&T already carries the Lumia 820. The off contract prices for the Lumia 720 in the UK and Germany are markedly higher than the full $399 retail price of the
Lumia 820
, so it will be interesting to see how that plays out.
The cool thing about looking through an FCC filing after a device has been announced is we get to see a lot more of the device, in this case, all the guts that make it work. Assuming that AT&T does get first dibs on the device, between the 720 and 820, which one do you like? Given the subtle, yet notable differences between the two, would a free subsidized Lumia 720 win you over a $50 Lumia 820?
sources:
FCC
via
SlashGear