Nokia Lumia 635 for Virgin Mobile with 1GB of RAM now available at $39.99 from Best Buy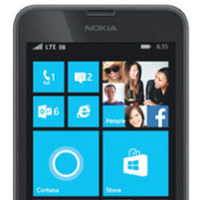 It looks like Microsoft is continuing its race down to the bottom end of the smartphone price spectrum. Recently, we told you that the T-Mobile Microsoft
Lumia 435 is available at just $50 over at Walmart
without a contract, and today we have more good news for budget smartphone fans.
The Virgin Mobile version of the Nokia Lumia 635 can now be purchased for $39.99 off-contract from Best Buy. That's down from the smartphone's usual retail price of $99.99.
The Nokia Lumia 635 comes with a 4.5-inch display running a resolution of 480 x 854 pixels at a PPI of 221. It's not one of the
smartphones with the highest PPI ratios
around, but the quality of the panel is decent for a budget smartphone. Under the hood beats the heart of a Qualcomm Snapdragon 400 chipset, a SoC that features a 1.2GHz quad-core ARM Cortex-A7 processor and an Adreno 305 GPU.
There are two versions of the Lumia 635 currently available. One comes with 512MB of RAM, while the other doubles that to 1GB. Interestingly, Virgin Mobile versions of both the 512MB and the 1GB variants are currently priced at $39.99 over at Best Buy. The trick is that the retailer will ship you the 512MB version, but you'll have to pick up the 1GB version in store. For what is worth, 1GB of RAM will make for a more fluid experience across the board.
In the camera department, the Lumia 635 comes with a 5MP camera on the back, but it lacks a front-facing camera. Other specs include 8GB of integrated storage space, a microSD card slot, and a 1830mAh battery. The handset currently runs Windows Phone
8.1
, but Microsoft said that the smartphone is set to be updated to Windows 10 Mobile later this year when the new operating system launches.
Before committing to a purchase at what seems to be a very attractive price for an off-contract smartphone, make sure to check out our
Lumia 635 review
.