Nokia Lumia 1520 is first with assertive display: watch it easily beat Galaxy Note 3's screen
99+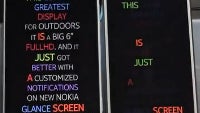 Nokia unveiled its first phablet, the
Lumia 1520
, two days ago and one of its key features is the sharp and vibrant 6-inch 1080 x 1920 pixel screen. It's not all about color fidelity and sharpness, though, having a good screen is also a lot about actual visibility under both bright sunlight and in low light and at night.
The Lumia 1520 does admirably in all those conditions and now there is a factual proof as we see how the 6-inch display on the Nokia device adjusts quickly and accurately to changes in lighting while the otherwise great display in the Samsung Galaxy Note 3 fails to do so.
The two displays - the 6-inch 1080p one on the Lumia 1520 and the 5.7" 1080p one on the Galaxy Note 3 - share the same resolution, but are drastically different in the technology they employ. The Lumia features an IPS LCD display, while the Samsung phablet relies on a Super AMOLED panel.
Assertive display difference

Lumia 1520 is the first smartphone with assertive display tech
However the stark difference in readability comes from a technology called assertive display and developed by Apica. Assertive display outdoes all existing display management functions like Samsung's Adapt display for instance. The core benefit from using it is dramatically improved outdoor viewing experience but not at the expense of battery efficiency.
You most likely already have a light sensor in your smartphone that can adjust the display brightness to lighting conditions, but what this assertive display technology does is actually tweak every pixel, and not just the screen as a whole. It all happens in real time and the results are telling.
The technology actually adjusts the color and brightness of every pixel depending on the lighting conditions and the changes happen extremely quickly. Here is Apica's own explanation of how its technology allows users to watch a movie on a tablet even under the direct sun:
"Assertive Display dynamically adjusts content to ambient lighting conditions using state-of-the-art pixel processing algorithms. This means that the effective screen contrast can remain around 1000:1, similar to an HDTV, even when the real screen contrast ratio is around 10:1, as it is for LCD and OLED displays in bright sunshine."

Assertive display (on the right) when watching a movie outdoors
How does it work and will we see it on other smartphones?
Assertive display is not just a software trick - it's an actual semiconductor IP core that is made to be easily adaptable and ready for integration in various displays. The technology works independently of the underlying processor architecture and does its magic by taking data from a single photosensor on the device.
The actual pixel correction uses iridix, a technology that has been developed for years on end to mimick the human's eye capability to adjust to different lighting conditions. As we've already said, this is the local tone mapping engine that drives dynamic real-time changes in every single pixel and revealing lost detail in shadows and highlights while still keeping the realistic colors and overall appearance of a picture. Most importantly, it leaves the midtones in an image untouched.
Iridix uses that independent hardware core so it does not additionally stress your CPU or system memory, and it works with all display types.
"The thing to remember is we're not changing the brightness or the power of this display at all,"
stresses Apical CEO Michael Tusch,
"we're just tuning the pixels to adjust the contrast ratio."

Nokia Lumia 1520 vs Samsung Galaxy Note 3: an easy win
With so much theory, it's time for a telling video demonstration. This is a test Nokia prepared at Nokia World, but we only get to see it on video now. What this test focuses is exclusively on the actual readability and adaptation to different lighting conditions, not color fidelity. And the Lumia 1520 wins this over the Galaxy Note 3 easily.
As the lighting conditions change from pitch dark to bright illumination, the Galaxy Note 3 display struggles to adjust and the overwhelming majority of the text is lost. The Lumia 1520 - in contrast - remains perfectly legible all the time.
Take a look at the video below and also make sure to check out the official press release from Apical about assertive display on the Lumia 1520, and decide for yourself how big of a difference this makes. For us it's huge and we're eager to put it to the test ourselves soon.

Nokia's Latest 4G Smartphone Lumia 1520 Uses Assertive Display by Apical

Apical Ltd announces that the Nokia Lumia 1520 4G Windows Phone 8 smartphone is the first smartphone from Nokia to feature its revolutionary Assertive Display technology, a result of over a decade's research and development into modelling human vision.

By digitally modelling the way the eye adapts to virtually any ambient light, rather than simply adjusting the display, Assertive Display delivers a seamless viewing experience to the user from a dark room to bright outdoor light. Further, colour and contrast ratio are preserved delivering TV-like video quality without the familiar washout of earlier technologies. This new capability ensures that content previously unwatchable in daylight, such as premium sports, games, movies and photos, can be clearly viewed. Ultimately this means a more immersive, natural and comfortable experience where the display is always adapted to the user's own eyes.

Surprisingly, this increased viewability does not come at the expense of display power -in fact display power can frequently be reduced using Assertive Display, extending battery life.

Says Jussi Ropo, Head of Display and Touch Technology: "With continuous display technology innovations, Nokia is allowing people to do and see more on the display of a Nokia Lumia smartphone. The latest addition to the great viewing capabilities on a Lumia smartphone is demonstrated on the Nokia Lumia 1520 where Assertive Display nicely complements the ClearBlack promise of being able to see more anywhere, anytime - even in a bright environment."

Michael Tusch Apical Ltd CEO says:
"We are thrilled to see Nokia implement this disruptive and powerful innovation. By combining sophisticated video processing with a deep understanding of human vision we have been able to transform the performance of almost any display technology in different lighting conditions. Content providers, including game developers, advertisers and operators can now liberate the promise and revenue potential of multimedia on 4G-enabled mobile platforms."