Nokia Asha 503, Asha 502, Asha 500 are official with crystal-clear design, smarter camera
11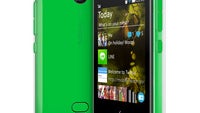 As expected, Nokia announced the newest additions to its Asha lineup during its press event hosted in Abu Dhabi. These are the Nokia Asha 503, Asha 502, and the Asha 500 – the most advanced, and arguably the most good-looking members of the series to date.
So, what have Nokia's designers crafted this time? Well, the new Asha phones come in a wide variety of vibrant colors, but that's not all they have to stand out with visually. The Nokia Asha 503, Asha 502, and Asha 500 feature the so-called crystal-clear design, with a bright, colorful body covered by a transparent layer.
Design aside, the new Nokia Asha smartphone stick to low-end specs, but that's expected given their low cost. The Nokia Asha 500 comes with a 2.8-inch 240x320 pixel touchscreen, a 2MP camera, and the option to have the handset in either single- or dual-SIM flavor. The slightly superior Nokia Asha 502 offers a 3-inch touchscreen, and a better, 5-megapixel camera with LED flash. Again, the phone supports dual-SIM functionality, which is a feature often demanded by the consumers Asha phones are targeted at.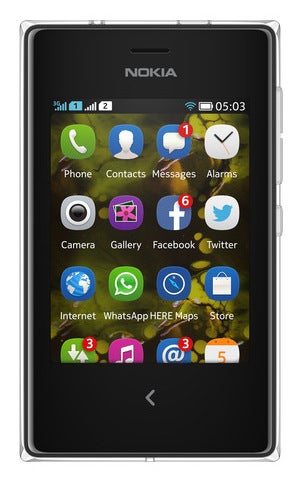 Nokia Asha 503
But the leader of the gang is the new Nokia Asha 503. It offers a 3-inch 240x320 pixel touchscreen protected by Gorilla Glass 2 and a 5MP camera with LED flash. Interestingly, this is the first 3G-capable phone in the Asha series. Expect seeing it in both single- and dual-SIM configurations.
All these new Asha phones are based on the same touchscreen-optimized user interface we first saw on the Nokia Asha 501. It offers both a traditional icon-oriented home screen and a secondary list, called Fastlane, where frequently used features are organized. This allows users to instantly access their favorite apps and social networks. And speaking of apps, WhatsApp is scheduled to land on all new Asha models in the coming weeks, offering all the features its current users know and love.
The Nokia Asha 500 is to be released in Africa, Asia-Pacific, Europe, Latin America and the Middle East, priced at about $69 before taxes. The slightly more expensive Nokia Asha 502, priced at around $89 unsubsidized, is to launch in Africa, Asia-Pacific, Europe and Middle East. And as for the Nokia Asha 503, expect it to carry a price tag of roughly $99 unlocked when it is out in Africa, Asia-Pacific, Europe, Latin America and the Middle East.